YO FIRST BLOG POST OF THIS SECTION!
MY NAME IS SPARKY3000, MODERATOR OF THIS WEBSITE IF ANYONE STILL HERE LOOOOOLLLL)
Alright since this is my first blog post im going to talk about my first anime/manga.
I grew up in the 1990's, the golden age of cartoons and animation! and when the best animation shows were out, (ren and stimpy, rocko modern life, etc,) Back then I watched Kirby, for kids dub of one piece, pokemon, shamin king, pokemon, card capture sakura, sailor moon, dragonball, dragonball Z, Gundam Seed, sonice, kirby, Yuyu hakasho, yugioh later on. But I didn't know what anime was back then.
then in high school in 2004 me and my friend got bullied and chase into a building. The president of the club picked up a chair and chase them away for us so we stayed in the classroom. The first anime I was introduce was Trigun.
[youtube] SSX58TglZRs [/youtube]
First episode i saw was episode 4, Vash the stampede dancing into the bar, while chewing on some gum not knowing theres a hostage situation in the bar.
Later to become hostage, after the whole hostage thing got resolve and ending it with vash love and peace!!
I got hooked on trigun after watching a few episode especially when it gets serious in episode 12.
Also was playing a game of: WHERE IS KURONEKO (evil little thing is a pain to find!!)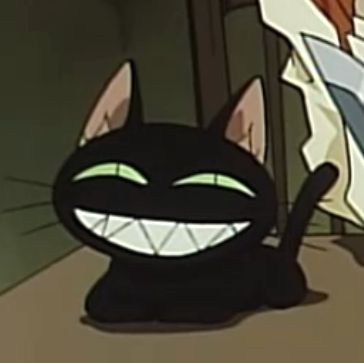 (curse u kuroneko!!)
MANGA:
During that time Trigun Gunsmoke volume 1-2 (which was the anime was based) was out so I read those. But the manga ended around halfway through the anime series. Couple years later the first volume of Trigun Maximum came out. Trigun Maximum continues the manga series from the 5th moon incident but the series didn't go the same way as the anime it came out muuuch better!! The series went off to its own direction with a ten times better story than the anime.
You get more background on Vash and Knives and why Knives went evil. Got a nice background info on wolfwood as wel. Also get a nice brief background on Legato and why hes so loyal to knives.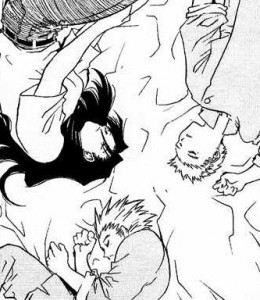 What got me though was the tons new cool villans!! They changed up some of the villians group gun ho guns, theres Livio the double fang, Razlo the Tri-Punisher of death and the transgender: Zazie Elendira the Crimsonnail. (Zazie the beast's gender now completely confuses me now). They switched out legato out of the gun ho guns but Legato dosen't die easily in this one, he dosen't use puppet hostages and force vash to kill him...
...No he fights.... and hes is a badass fighter....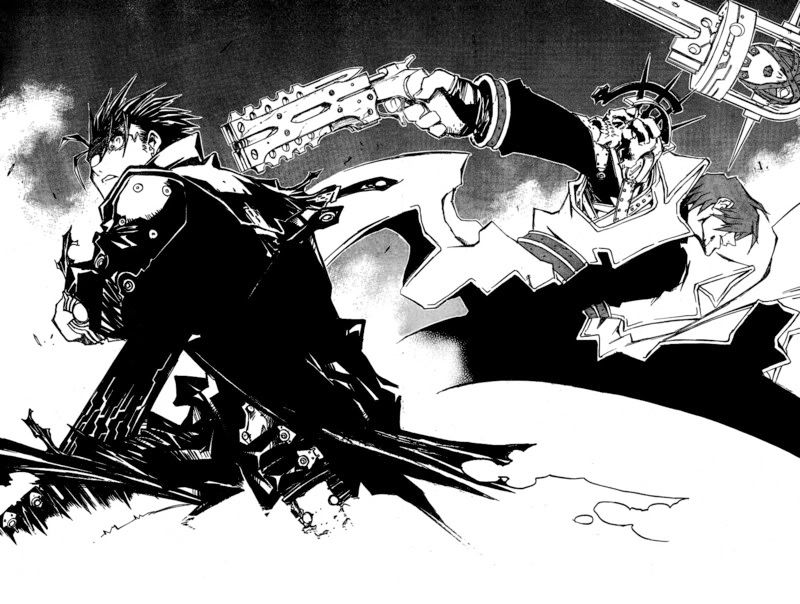 Vash is getting weaker and closer to death while Knives is so stong He becomes super OP!!! He can murder spaceships in space!!! IN SPACE!!!
fights are so cool as well:
(wolfwood is so badass in this version!!)
I recommend collecting the manga, al 16 volumes! (so worth it!)
I am still a big fan ofthe arthor of Trigun: Yashiro Nightow, and still a big fan of Trigun. I even got to meet the Nightow when the Movie was announced and he signed my Manga, (its even in the extras on the DVDS!!)
I highly recommend Yashiro's nightows other work: Gungrave and Kekkai Sensen (Blood blockade battlefront)
Well then thats all I got for now.
LOVE AND PEACE!!!